Pat Bullen Whatling Gallery
Llandeilo, Carmarthenshire.


| | |
| --- | --- |
| | |
When my husband brought me home to live in Wales I instantly fell in love with the country; its meadows and woods, the livestock of the fields and hills and its people, and for twelve glorious years we farmed (in a small way) milking our goats and cows, tending our sheep and keeping pigs and bees.

In 2009 I attained a BA in Fine Art, with Honours, and though I had been a professional artist since 1981 my mind was now open to what art actually meant rather than what it simply looked like. I've exhibited many times, been repeatedly commissioned by the National Trust and sell my work online, at public events and by prior appointment.

If you'd like to see more of my work please visit the Pat Bullen-Whatling Gallery for Contemporary and Fine Art: www.patbullenwhatlinggallery.co.uk.

If you'd like to email me you can use: Pat@PatBullenWhatlingGallery.co.uk

If you'd like to speak to me about my art - my business number is: 07572 406192

I now live in Llandeilo so contact is easy!
Latest News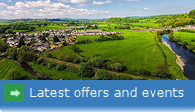 ---
Love Llandeilo? Visit the Love Llandeilo Facebook page

---
Love shopping too? Visit the Llandeilo Shop Shop Shop Facebook page!

---
Gŵyl Dau Sant, Two Saints Festival 23 Chwefror/February - 2 Mawrth/March 2019 click here for more information

---
Festival of the Celts 4th and 5th May 2019 click here for more information

---
Welsh National Sheep Dog Trials, Food and Craft Festival 2nd to 4th August, Dinefwr Park click here for more information

---
Themed Walks A series of six themed walks have been created to encourage access to the Tywi Valley click here for more information

---



Recent Additions to the website
Chess Menswear
The Music House
Maryellens@139
Carreg Law Solicitors
Dan Castell Holiday Cottage
Dinefwr Taxi and Private Hire
Gillian Bowler Language Tuition
Golden Grove Cottages
The Nest
Tregib Sports Facilities

Photo Credit: Mark Revitt Photography
Logo Credit: Hathagraphics


---
If you come across anything out of date on this site, please email us: info@visitllandeilo.co.uk thanks.