Every Body's Better
Garth Celyn, 5 New Road, Llandeilo, Carmarthenshire, SA19 6DB


| | |
| --- | --- |
| | |
Every Body's Better offers gentle and effective Bowen & Emmett Techniques to combat pain and to bring stress relief. Both these therapies are non-invasive and do not involve pulling and pushing; pummelling or crunching.

It doesn't matter how old or how young you are, Every Body's Better has techniques that can help you. These techniques work just as well for the fit sports person as for the most frail client; for the pregnant woman to the new born child; for the desk bound business person to the physically active tradesperson. Every body will receive an individually tailored treatment programme to meet their specific needs.

Judith fully understands the difficulties encountered by people with a wide range of injuries, illnesses and disabilities, having worked in health and social care for over 20 years. She regularly attends courses to continue her education and is fully insured. Every Body's Better can help you feel better right now and can offer you regular treatments that can help you stay feeling that way.

Judith offers treatment sessions in the centre of Llandeilo and at other locations in South Wales. It is also possible to:
Arrange therapy for a group of people with similar needs at a particular location on a regular basis.
Provide support for charity events in South Wales to offer short taster sessions to help you raise money.
Help businesses value employees by providing an injury / stress prevention service.
Contact: Judith Johnson Tel: 07932 347983
email: Judith@everybodysbetter.co.uk
Website: www.everybodysbetter.co.uk

Latest News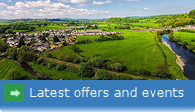 ---
Love Llandeilo? Visit the Love Llandeilo Facebook page

---
Love shopping too? Visit the Llandeilo Shop Shop Shop Facebook page!

---
Festival of the Celts 4th and 5th May 2019 click here for more information

---
Welsh National Sheep Dog Trials, Food and Craft Festival 2nd to 4th August, Dinefwr Park click here for more information

---
Themed Walks A series of six themed walks have been created to encourage access to the Tywi Valley click here for more information

---



Recent Additions to the website
Chess Menswear
The Music House
Maryellens@139
Carreg Law Solicitors
Dan Castell Holiday Cottage
Dinefwr Taxi and Private Hire
Gillian Bowler Language Tuition
Golden Grove Cottages
The Nest
Tregib Sports Facilities

Photo Credit: Mark Revitt Photography
Logo Credit: Hathagraphics


---
If you come across anything out of date on this site, please email us: info@visitllandeilo.co.uk thanks.