Susan Augustus (IIHHT) Dip.
Susan has been a fully qualified complementary therapist for years and works from home and from Nigel Williams' Chemist Llandeilo.

Home visits are available on request. Therapies offered are:-

Reflexology, Reiki & Seichem healing

Mobile: 07814 677756 Home: 01267 290 101
email: suea123@hotmail.co.uk

Sian Augustus BSc (Hons). MAR. MIFPA. MTI
Sian is a fully qualified therapist of the highest standards and has a BSc (Hons) Complementary therapies. She has recently opened up a therapy room at Missylane Salon in King Street Carmarthen.

Therapies offered are:-

Reflexology, Aromatherapy, Holistic Massage & Chair massage

Mobile: 07814 164283
email: sian_augustus@live.co.uk

Vouchers available on request
Latest News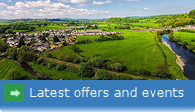 ---
Love Llandeilo? Visit the Love Llandeilo Facebook page

---
Love shopping too? Visit the new Llandeilo Shop Shop Shop Facebook page!

---
Summer Fun on Market Street! 24th July to 2nd September click here for more information

---
KBAM Summer Academy, Tregib Sports Facilities, Summer Holidays click here for more information

---
Themed Walks A series of six themed walks have been created to encourage access to the Tywi Valley click here for more information

---



Recent Additions to the website
Gillian Bowler Language Tuition
Golden Grove Cottages
The Nest
Westmorland Sheepskins
Tregib Sports Facilities
Deintyddfa Tywi Dental Practice
Lletty Cottage
Pat Bullen Whatling Gallery
Pilates in the Nordic
Oriel Mimosa Fine Art
DG Davies, AGA Rayburn Engineers
Baseline
Deintyddfa Celtic Dental Practice

Photo Credit: Mark Revitt Photography
Logo Credit: Hathagraphics


---
If you come across anything out of date on this site, please email us: info@visitllandeilo.co.uk thanks.