Local News

Local news (rss):

These stories come from a variety of local news sources
South Wales Evening Post commented Dean Jones admits killing lawyer Alison Farr-Davies in Swansea...
A Swansea man has admitted killing lawyer Alison Jane Farr-Davies in a flat in the Hafod area of the city.The body of the 42-year-old solicitor was found at a property in Neath Road, near the Liberty Stadium, in September last year.Dean Marcus Jones, aged 38, of Neath Road, Hafod, had denied murder- but dramatically entered a plea of guilty to manslaughter at Swansea Crown Court on Tuesday afternoon. The jury, which had been sworn-in before lunch, was then discharged.Miss Farr-Davies was born in...
Latest News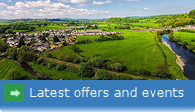 ---
Love Llandeilo? Visit the Love Llandeilo Facebook page

---
Love shopping too? Visit the Llandeilo Shop Shop Shop Facebook page!

---
Gŵyl Dau Sant, Two Saints Festival 23 Chwefror/February - 2 Mawrth/March 2019 click here for more information

---
Festival of the Celts 4th and 5th May 2019 click here for more information

---
Welsh National Sheep Dog Trials, Food and Craft Festival 2nd to 4th August, Dinefwr Park click here for more information

---
Themed Walks A series of six themed walks have been created to encourage access to the Tywi Valley click here for more information

---



Recent Additions to the website
Chess Menswear
The Music House
Maryellens@139
Carreg Law Solicitors
Dan Castell Holiday Cottage
Dinefwr Taxi and Private Hire
Gillian Bowler Language Tuition
Golden Grove Cottages
The Nest
Tregib Sports Facilities

Photo Credit: Mark Revitt Photography
Logo Credit: Hathagraphics


---
If you come across anything out of date on this site, please email us: info@visitllandeilo.co.uk thanks.