Local News

Local news (rss):

These stories come from a variety of local news sources
South Wales Evening Post published A horse rider was in a coma for 10 days after suffering a...
A horse rider who was in a coma for 10 days after a horrific fall has praised the flying doctors and hospital surgeons who saved her life.Jan Hartland suffered severe chest injuries and a perforated lung after falling while riding last summer.Although she remained in Morriston Hospital in Swansea until the autumn, the 64-year-old from Llanharan is now back in work.With her own horse ill, Jan was on a friend's horse at Southerndown Common on August 31, 2016.READ MORE: Parents of cancer-fighting...
Latest News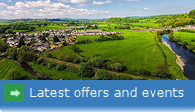 ---
Love Llandeilo? Visit the Love Llandeilo Facebook page

---
Love shopping too? Visit the new Llandeilo Shop Shop Shop Facebook page!

---
Llandeilo Late Night Shopping 20th December, 5 - 8pm click here for more information

---
Themed Walks A series of six themed walks have been created to encourage access to the Tywi Valley click here for more information

---



Recent Additions to the website
Maryellens@139
Carreg Law Solicitors
Dan Castell Holiday Cottage
Dinefwr Taxi and Private Hire
Gillian Bowler Language Tuition
Golden Grove Cottages
The Nest
Tregib Sports Facilities

Photo Credit: Mark Revitt Photography
Logo Credit: Hathagraphics


---
If you come across anything out of date on this site, please email us: info@visitllandeilo.co.uk thanks.