Local News

Local news (rss):

These stories come from a variety of local news sources
South Wales Evening Post commented Parents of cancer-fighting five-year-old claim charity won't hand...
The family of a terminally ill girl claim they are being denied access to money donated to her cause - after doctors advised she could no longer undergo treatment.Five-year-old Nell Connick is receiving palliative care after she was diagnosed with a tumour last year, and undergoing weeks of chemotherapy.Last year the family, from Glais, Swansea, began raising money to give Nell specialist treatment in a bid to help her, and also to make sure they could treat the youngster to special experiences...
Latest News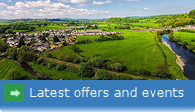 ---
Love Llandeilo? Visit the Love Llandeilo Facebook page

---
Love shopping too? Visit the Llandeilo Shop Shop Shop Facebook page!

---
Gŵyl Dau Sant, Two Saints Festival 23 Chwefror/February - 2 Mawrth/March 2019 click here for more information

---
Festival of the Celts 4th and 5th May 2019 click here for more information

---
Welsh National Sheep Dog Trials, Food and Craft Festival 2nd to 4th August, Dinefwr Park click here for more information

---
Themed Walks A series of six themed walks have been created to encourage access to the Tywi Valley click here for more information

---



Recent Additions to the website
Chess Menswear
The Music House
Maryellens@139
Carreg Law Solicitors
Dan Castell Holiday Cottage
Dinefwr Taxi and Private Hire
Gillian Bowler Language Tuition
Golden Grove Cottages
The Nest
Tregib Sports Facilities

Photo Credit: Mark Revitt Photography
Logo Credit: Hathagraphics


---
If you come across anything out of date on this site, please email us: info@visitllandeilo.co.uk thanks.