Local Trades
Llandeilo's historic and cultural location, surrounded by its natural beauty, boasts many beautiful properties including many Georgian and Victorian houses and conversions of old properties which have undergone many improvements over the years. This property hotspot is a very sought after area which demands the services of many local trades, here you will find a broad selection of appropriately qualified and highly experienced trades.
More:
Latest News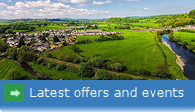 ---
Love Llandeilo? Visit the Love Llandeilo Facebook page

---
Love shopping too? Visit the new Llandeilo Shop Shop Shop Facebook page!

---
February Half Term at Dinefwr 17 - 25th February 2018 click here for more information

---
Gŵyl Dathlu Dewi - St David's Festival
click here for more information
---
Hwyl Llandeilo Lit Fest 27 - 29th April 2018 click here for more information

---
Themed Walks A series of six themed walks have been created to encourage access to the Tywi Valley click here for more information

---



Recent Additions to the website
Dinefwr Taxi and Private Hire
Gillian Bowler Language Tuition
Golden Grove Cottages
The Nest
Westmorland Sheepskins
Tregib Sports Facilities
Deintyddfa Tywi Dental Practice
Lletty Cottage
Pat Bullen Whatling Gallery
Pilates in the Nordic
Oriel Mimosa Fine Art
DG Davies, AGA Rayburn Engineers
Baseline
Deintyddfa Celtic Dental Practice

Photo Credit: Mark Revitt Photography
Logo Credit: Hathagraphics


---
If you come across anything out of date on this site, please email us: info@visitllandeilo.co.uk thanks.