Westmorland Sheepskins
5 Carmarthen Street, Llandeilo, Carmarthenshire


| | |
| --- | --- |
| | |
We offer a range of sheepskin and leather products for babies, children, ladies and gents alongside homeware. Including sheepskin slippers, gloves and mittens, sheepskin headwear and flatcaps, leather bags and purses, leather goods for men, accessories such as chammy leathers, bike and car seat covers and hot water bottle covers, a large range of sheepskin rugs, cushions, chair covers, beanbags and more - such as our baby range that includes infant rugs, stroller liners, mittens and booties!

Our products are special not just because of their classic and timeless design but for their qualities as natural products. Did you know that sheepskin is actually temperature regulating and hypoallergenic? This makes it especially great for homeware, babies and children, people with medical ailments such as Reynaud's Syndrome and those of us who spend long hours in the same position such as drivers (car seat covers), hospital patients (medical rugs) and wheelchair users.

Open Wednesday to Saturday 9.30am - 5.30pm and some Sundays during the Christmas and holiday seasons. (Keep an eye on our website and shop for these dates).

Tel: Coming Soon
email: info@westmorlandsheepskins.co.uk
Website: www.westmorlandsheepskins.co.uk
Social: Join the conversation on Facebook, Pinterest, Instagram and Twitter or even face to face - we still do that too!

Established in Yorkshire in 1981, Westmorland Sheepskins is a family business, started by Howard Heaton, that sells genuine sheepskins and leather goods. Our shop in Llandeilo is run by Howard's son Tim, his wife Dominique and mother-in-law Theresa who are local to Llandeilo. It's a family affair.
Latest News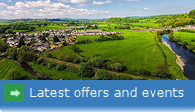 ---
Love Llandeilo? Visit the Love Llandeilo Facebook page

---
Love shopping too? Visit the Llandeilo Shop Shop Shop Facebook page!

---
Festival of the Celts 4th and 5th May 2019 click here for more information

---
Welsh National Sheep Dog Trials, Food and Craft Festival 2nd to 4th August, Dinefwr Park click here for more information

---
Themed Walks A series of six themed walks have been created to encourage access to the Tywi Valley click here for more information

---



Recent Additions to the website
Chess Menswear
The Music House
Maryellens@139
Carreg Law Solicitors
Dan Castell Holiday Cottage
Dinefwr Taxi and Private Hire
Gillian Bowler Language Tuition
Golden Grove Cottages
The Nest
Tregib Sports Facilities

Photo Credit: Mark Revitt Photography
Logo Credit: Hathagraphics


---
If you come across anything out of date on this site, please email us: info@visitllandeilo.co.uk thanks.